More Details Emerge in the Confirmed Death of Ravi Kumra
Updated December 1, 2012 at 7:38PM (Follow Cody S Investigations on Facebook to received updates on the Raveesh Kumra / Monte Sereno Homicide –> Click Here)
Monte Sereno, California (12/01/2012) – The Los Gatos Monte Sereno police department officially identified 66-year-old Raveesh Kumra as the "man of the house" found dead at a 7,000 square foot Withey Road estate early Friday morning. This confirms yesterday's suspicions as to the identity of the deceased, the one time owner of the Saratoga Mountain Winery.
Los Gatos Monte Sereno case number "12-2391″ is shaping up to be an interesting one for a department that has investigated only a handful of homicides over the past decade. This leaves some to wonder if the Los Gatos Monte Sereno Police Department, given their infrequent investigation of incidents such as that involving Kumra and questionable homicide investigation skills wherein some cases the department has been accused of potentially "mishandling" such investigations, are the best suited for such an investigation. The dust is still settling from a near decade long unsuccessful battle by the department in attempting to indict Maurice Nasmeh in relation to the 2001 disappearance of then 42-year old Los Gatos resident Jeanine Harms. Although Nasmeh was gunned down in a fatal murder/suicide attack by Harms' brother in a strange twist of events in 2011, Nasmeh was never successfully indicted or convicted of any offenses stemming from the Los Gatos Monte Sereno Police Department's investigation of the disappearance of Harms and various pieces of information have surfaced over the years as to the potentially shoddy evidence handling and questionable investigation practices incorporated by the department from the onset of the investigation. To date, Harms' body has never been located.
As the investigation into the Kumra incident continues, it remains to be seen what will happen and the Los Gatos Monte Sereno Police department remains tight-lipped. The department released a sketch of a suspect in the Kumra case earlier this evening and released a related description of "one" of the the assailants, seeming consistent with the department's contention yesterday that there may be more than one individual involved (NBC Bay Area reports the description as being that of a 6 foot tall  white male adult approximately 23 to 24 years old and skinny). Aside from this, there is a lack of substantive details being released as to whether this incident is a random act of burglary or robbery gone bad or a targeted attack on man with a colorful past and a woman described as his wife. This includes no information as to the official cause of death  or the specific circumstances of where police found Kumra's body at the Monte Sereno estate.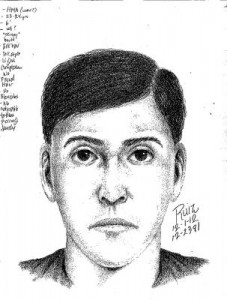 Los Gatos Monte Sereno Police Department / Artist Rendition Released on 12/1/12
Despite the department's silence, more is coming to light about a man neighbors knew little about. Amongst the reports in circulation as to this seemingly mysterious man many refer to as "Ravi," are accounts of a potentially volatile millionaire. Bill Hirschman, a real estate developer that is now among the current group of Mountain Winery owners who purchased the venue from Kumra in the late 1990′s referred to Kumra as "an interesting guy" in an undated MetroActive news article. In further citing his pre-Mountain-Winery-ownership-dealings with Kumra, Hirschman cites "complications" as the source of his decision to not get involved in a construction project with Kumra and to "cut ties with the project" at the time.
With regard to Kumra's run-ins with the law during his tenure as the Mountain Winery's owner, according to a 1998 MetroActive article, Kumra reportedly made threats and repeated harassing calls to Elisbeth Challener who was at the time an associate of the Mountain Winery. Also quoted in the article is then deputy district attorney Rebecca Hayworth, A Santa Clara County District Attorney's Office representative associated with the prosecution of Kumra, in which she describes Kumra's conduct that gave rise to the charges in stating "Generally, the pattern tends to be multiple messages on her [Challener's] voicemail until it's full. And then he'd start on other employees." The same report indicates Kumra later plead no contest to "two counts of disturbing the peace" and was placed "on probation for three years." The veracity of the information contained in the anonymously authored of the 1998 Metro report is unknown. However, the article claims that Kumra was ordered by the court (in relation to his plea agreement) to continue "taking prescribed pschiatric medication," which he "apparently neglected to take …. when he decided to put his cell phone to illicit use."
In an online photo album located by Cody S Investigations, the "owner" of such album  named "Ravi Kumra" lists 49 photos from an apparent 2006 family outing to Big Sur. Amongst the a photos are a handful of solo shots of the apparent "man of the house" of four depicted in the photos; a heavyset, bald, and seemingly disheveled male that matches the general appearance of confirmed photos of Raveesh "Ravi" Kumra. Also pictured is a female matching the general age of Harinder Kumra, potentially the woman that according to reports by the police placed the "frantic" 911 call in the early hours of yesterday morning.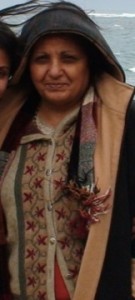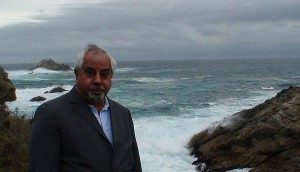 I still have my suspicions as to what is going on here. The female reporting party has indicated to police there was "one" or "four" assailants perpetrating the attack. That's quite a discrepancy even for someone experiencing an traumatic event. Although my PI sense tells me this is far from a burglary or robbery gone bad, I want to reiterate this is just a belief / theory and not something I am purporting as being factual. However, if this was a robbery or burglary gone bad, I still feel it is very unlikely it was a random property crime. Who the hell randomly decides to burglarize a 7,000 square foot mansion at 2am on a stormy night? Further, the  female claims she did not recognize the assailants, which, if true, would mean these assailant(s) were probably foreign to the residence and  unlikely employees, workers, or people who had routinely come onto the property. Thus, it would be a random act of "let's go burglarize a estate in the middle of a dark stormy night where we don't know if the homeowner has cameras, an alarm, a firearm, etc." Possible? Sure. Likely? Nope. And, what about the dissolution of marriage record? The police and the media continue to leave this issue un-addressed. There is much that remains to be discovered.
- Cody Salfen
Cody Salfen is a California licensed private investigator and owns and operates Cody S Investigations (a California private investigation firm located in Los Gatos). If you have any questions about this post, contact Cody at Cody@CodySInvestigations.com. Stay updated on developments in this case by following Cody S Investigations on Facebook.
—————————————————————————————————————————————-
Scroll Down for Original Post from November 30, 2012

——————————————————————————————————————————————
Original Post / November 30, 2012

WTF is going on in Monte Sereno? 
The Los Gatos Monte Sereno police first released the news of a "Homicide in Monte Sereno" today (November 29, 2012) at 5:30AM. In a written press release, Los Gatos Monte Sereno Police Sergeant Kerry Harris indicates that "at 1:36AM" 911 dispatchers received, what Chief Scott Seaman has referred to as  a "frantic," call from a female at a residence in Monte Sereno reporting a break-in at the residence and that the home was "ransacked." Further, Sergeant Harris indicates in the release that "when the suspects had left, she (the reporting party) was able to call 911 to summons assistance."
When police arrived at the residence, the police located a "male deceased inside of the residence." Although the Santa Clara County county coroner's office will not release the identity of the deceased male, later in the day, the San Jose Mercury News has quoted Sergeant Kerry Harris as stating that the man killed was the "man of the house." I conducted a public records search, which revealed that the owner of the residence (18630 Withey Avenue in Monte Sereno, CA) is "Raveesh Kumra" and "Harinder Kumra," both in their 60′s according to the same public records source. Although the authorities have yet to confirm the identity of the man killed, I'd have to say there is a pretty good chance "Ravessh Kumra" is the (now deceased) "man of the house" Chief Seaman is referring to.
WHO IS RAVEESH KUMRA?
A simple internet search reveals Raveesh "Ravi" Kumra as being the CEO of "Western Cellular Management" and was a previous owner of the Saratoga Mountain Winery. A little deeper digging revealed a potentially colorful past for "Ravi." In an article by Sarah Lombardo of "Saratoga News" dated October 28, 1998, it is reported that Kumra, who at that time was the owner of the Mountain Winery, was involved in numerous incidents at the Mountain Winery which gave rise to various criminal charges against Kumra. This included an assault charge against Kumra which was "the result of an alleged attack by Kumra on a security guard and a production staffer on site at the winery for a concert" and  "Kumra is alleged to have been intoxicated at the time of the incidents." Next, amongst the criminal charges against Kumra were two counts of making "annoying or threatening phone calls" and one count of making "terroristic threats" stemming from Kumra allegedly "making threatening calls to (then) Montalvo Executive Director Elisbeth Challener." Also quoted in the 1998 Saratoga News Article is then Santa Clara County Sheriff's Department spokesman Sgt. Jim Arata in which Sgt. Arata states that at the time of the above noted incidents giving rise to the charges, Kumra "was on probation for a number of traffic violations, including drunken driving resulting in injury and hit-and-run," which gave rise to additional issues involving alleged probation violations stemming from the new charges.
 A public records search of the Superior Court of California, County of Santa Clara criminal index did not reveal any results associated with Raveesh Kumra. However, the index only contains records dating back to 2004.
WHO IS RAVEESH KUMRA MARRIED TO? 
 The unidentified caller that placed the "frantic" 911 call "after someone broke into the residence" was in fact a female per the information provided in the written press release authored by Los Gatos Monte Sereno Police Sergeant Kerry Harris. The written press release states the caller indicated someone broke into the residence of "her and her husband." I'm going to go out on a limb here and assume the second name associated with the property record "Harinder Kumra" is the female who placed the 911 call and who was subsequently transported to a nearby hospital. But, another public records search revealed that "Harinder R. Kumra" of "18630 Withey Rd., Monte Sereno, Ca" filed for a dissolution of marriage (divorce) from "Raveesh Kumar Kumra" on 10/20/2006. The same record indicates the record was "disposed" / concluded on 03/26/2010. If the dead man is in fact Raveesh Kumra and the woman that caled 911 is in fact Harinder Kumra, why is Harinder referring to Raveesh as her husband? Did they get remarried? Has she disclosed to the police that there was a divorce proceeding? It is routine for law enforcement to withhold specific facts in an investigation of this nature. This allows them to leverage the investigation in their favor and provides for specific tactical advantages in a potential future interrogation of suspect. However, it is not standard procedure in these natured incidents to fabricate facts (i.e. to state a party is married to another party without verifying such information as being accurate). Surely the Los Gatos Monte Sereno would check the female's assertions before writing them in a press release, right? Surely, the police would not automatically take the caller's word as the truth without at least some independent factual verifications (i.e. determining whether two people are in fact married), right?
CLICK HERE TO SEE THE OFFICIAL DISSOLUTION OF MARRIAGE DOCKET FOR THE MARRIAGE OF RAVEESH KUMRA AND HARINDER KUMRA
In terms of what happened at this residence and what direction this investigation is headed, anyone's guess (aside from that of the men and women of the Los Gatos Monte Sereno police department) is as good as mine at this point. But, that doesn't mean my private investigator wheels aren't spinning…..
First, note that "middle of the night" home invasions are extremely rare. Former CIA Officer Jason Hanson indicates that most home invasions occur "during the day while people are at work." This leads me to believe this was not a random property crime gone astray as the police and the media have painted it to be thus far. But if it wasn't a home invasion gone bad, what was it? That remains to be seen. It is extremely uncommon for people intending to burglarize a residence to do so in the middle of the night. People are home at night. Burglars want property and do not want an encounter with a resident. Hence the statistics showing that home invasions typically occur during the day when a would be resident would be at work. Further, between 1AM and 2AM this morning (when this incident apparently occurred), Weather.com's historical weather report indicates there was heavy rain. I'm not a criminal, but put yourself in the shoes of a criminal. Would you randomly decide to burglarize a 7,000+ square foot home on a dark stormy night?
Perhaps Ravi had some beef with some folks? Perhaps Ravi owned some type of valuable property (i.e. art, antiques, etc.)? In this case a thief of such natured property would likely be someone who was close to the family and/or had been in the residence before. Perhaps a wife, former wife or someone claiming to be a current wife staged a "ransacked" home invasion scenario to rid herself of a her volatile husband or ex-husband? Maybe Ravi was broke and had a sweet life insurance policy. I don't know what happened and neither do the police. But, it will be interesting to see how this one plays out. I'm guessing there is a lot more to this one than a mere home invasion gone bad.
- Cody Salfen
Cody Salfen is a California licensed private investigator and owns and operates Cody S Investigations (a California private investigation firm located in Los Gatos). If you have any questions about this post, contact Cody at Cody@CodySInvestigations.com. Stay updated on developments in this case by following Cody S Investigations on Facebook.